SUNDAY WORSHIP at 10:00 AM
WHERE WE MEET
We meet at Jane Lathrop Stanford Middle School (JLS). Click here for a Google maps link. Officially our location is listed as Palo Alto Vineyard Church, 480 E Meadow Drive, Palo Alto, CA 94306.
Our adult worship service is located in what's called the Cafetorium: it's both a Cafeteria and Auditorium in one room. When you arrive, come to the Welcome Table to find out where the youth and children meet.
WHERE TO PARK
JLS is located on E. Meadow in between Middlefield Road and Alma Street. More specifically, we are on the corner of Waverly and E. Meadow. There is a traffic light where Waverly ends and it becomes JLS' driveway - enter here.
When you turn into the driveway, you will see a series of portable classrooms on your left with lots of parking available alongside these portables... keep driving forward until you see a bigger parking lot. Our entrance is toward the left side of this parking lot. If there is no room in this lot, you can also park on E. Meadow or alongside the portables.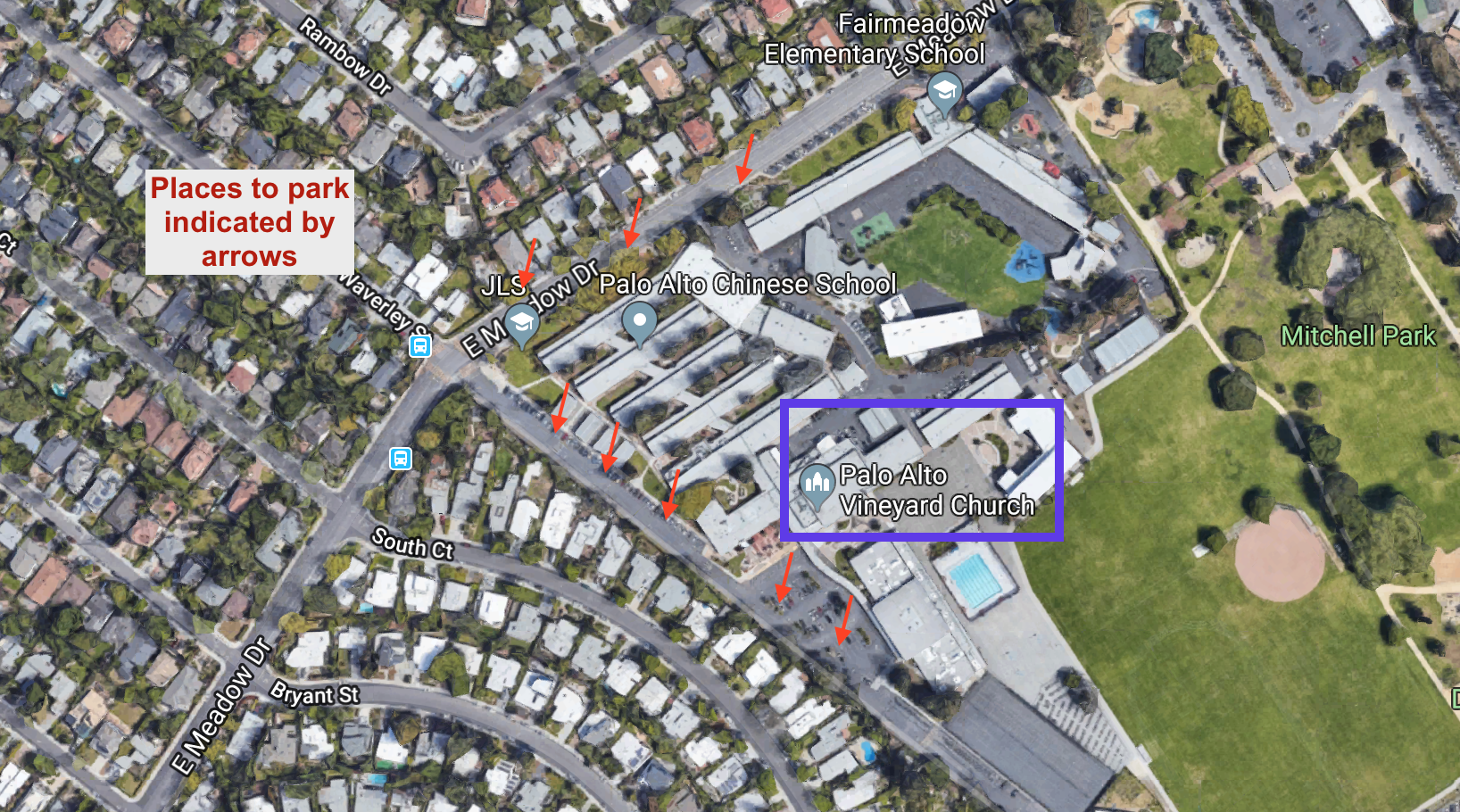 ---
CHURCH OFFICE
Our offices are located not too far away from JLS in Mountain View. Click here for a Google maps link. Officially our location is 935 Sierra Vista Ave, Suite A, Mountain View, CA 94043.
We host smaller events and group gatherings here. Our staff also have their offices here. Our parking lot is small and to the left side of the building; there are two parking lots so use the one on the left. There is also street parking available. During evenings and weekends, you are welcome to park in either lot.
OFFICE HOURS: Tue-Fri, 9am-4pm
PHONE: (650) 327-5727
EMAIL: