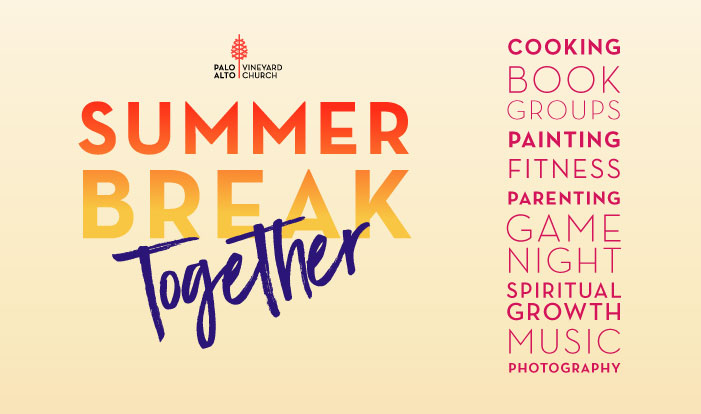 SBT AUGUST EDITION
A Time to Learn. A Time to Play. A Time to Grow. Together.
With the great success of Summer Break Together (SBT) in June and July, we are announcing a second round of classes & activities in August. If you are new to this idea, it's a great way to take a break, meet new people, learn something new, care for your souls, or just play some games, all on Zoom!

Click here to view a Calendar of all the classes by date.
---
NEW!
'Asian Americans' PBS Documentary Discussion Group: Sundays, Aug 30, Sep 6, and possibly Sep 13 from 4 to 5pm (Suzanne Magno, Stephanie Lim, Jiaming Zeng)
We will go through this 5-hour film series that chronicles the challenges and contributions of Asian Americans throughout American history. Our goal is to create a foundation of understanding that will lead to empowerment; knowing where we've come from and how we've gotten to where we are today will help us be better agents of change. It will help us live our lives as Asian Americans with a passion for justice and anti-racism with more clarity. And with the guidance of God, we can partner with Him and with others toward racial conciliation. Open to all who identify as Asian American in some way. Click here for a preview.
'White Awake' Book Discussion: Wednesdays, Aug 12,19, 26, Sept 2 at 7:30pm (Laurette Beeson and Prescott Bliss)
How can white Christians be active participants in addressing and confronting racial and systemic injustices? This compelling and timely book talks about seven stages that white people may go through on the path to cultural awakening. The book discussion aims to explore what it means to be a white believer in a multiethnic church and also to be empowered as an agent of reconciliation in our increasingly diverse and divided world.
Back By Popular Demand
'Core'antine Fitness: Sunday, August 16 at 5pm (Rebecca Boyle)
Workout with a focus on strengthening the core.
Home as Sanctuary: Saturday, August 8 at 11am (Karen Ratzlaff)
During this time of sheltering in place how can we make our homes truly feel like a sanctuary? What things can we change in our homes to nourish our spirits? I'll be exploring/discussing these ideas.
SIP Zoom Game Night: Friday, August 14, from 8pm to 9:30pm (Ron & Amanda Giles)
Fun "virtual" games tested over 5 hard months of Shelter-in-Place!
Painting California Poppies: Saturday, August 15 at 10:30am (Darcy Ogle)
Join me for an easy beginning lesson in watercolor. All skill levels are welcome. We will learn how to free hand paint California poppies! Bring your sense of adventure, and leave your inner critic behind.