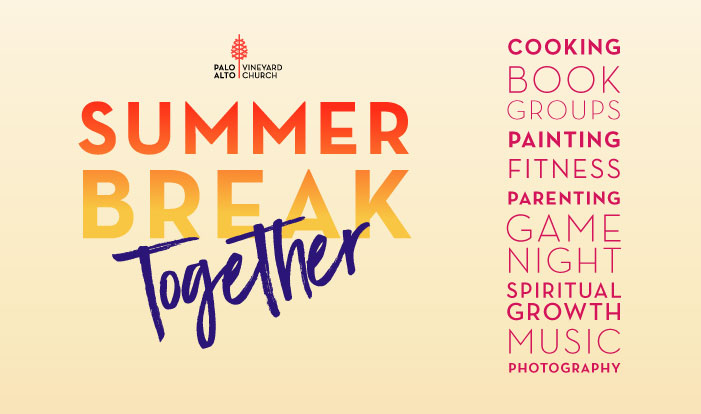 A Time to Learn. A Time to Play. A Time to Grow. Together.
While certain restrictions will still be in place, Summer Break Together is a way we can take a break from our normal routine, where you can meet new people, learn something new, care for your souls, or just play some games, all on Zoom!
While some small groups are taking a break in the summer take advantage of a variety of summer break activities to help fill your week with meaning and fun.

Click here to view a Calendar of all the classes by date.
---
NEW! Webinar Series on Anti-Racism
Addressing the Roots of Racism and Moving Toward True Repentance : Mondays, June 8 & 15, from 7 to 8pm
Iheoma Umez-Eronini, The River Community staff, community/protest organizer
Mike Davis, Palo Alto Vineyard Leader, Emcee
Adrian Lock, InterVarsity Director, Silicon Valley
Yes, we grieve, lament, and pray, but as individuals and as a church, how do we move beyond just being "not-racist"? How does Black Lives Matter and the pursuit of racial justice connect to the gospel and what is the role of our church? If you attended the lament prayer time, this could be a helpful next step. All are welcome.
Art, Music, Photography, Working Out
Paint California Poppies: Saturday, June 6 at 1pm (Darcy Ogle)
Join me for an easy beginning lesson in watercolor. All skill levels are welcome. We will learn how to free hand paint California poppies! Bring your sense of adventure, and leave your inner critic behind.
How to Sing Your Heart Out: Saturdays, July 11 & 18 from 11am to 12 noon (Susan Stokes)
Do you love worshipping God through singing, but find your desire to sing and freedom/ability don't always match up? Please join Susan Stokes in this fun 2 week workshop to explore greater vocal freedom and expression!
Photography Seminar Series: Thursdays, June 11, 18, 25 from 8 to 9 pm (Keith Porthouse)
This 3-week seminar series is intended to be a brief introduction to some of the basic aspects photography. The first session will cover taking photos, the second on image editing and the final session on photo management. The goal is that these sessions will be a mix of teaching and open discussion.

'Core'antine Fitness: Friday, June 26 from 12 to 12:40pm (Rebecca Boyle)
Workout with a focus on strengthening the core.
Book Discussion Groups (for older youth and adults)
'Thou Shalt Not Be A Jerk': Sundays, June 7 to July 5 from 2 to 3pm (Molly Field & Kassie Dantzler)
How can we engage in the often tense world of politics while reflecting the person and teachings of Jesus? We will read Eugene Cho's book together and discuss how to stay engaged, have integrity, listen to the hurting, and vote our convictions.
'Thou Shalt Not Be A Jerk': Tuesdays, June 16, 30, July 14, 28 from 8 to 9pm (Susan Van Riesen & James Cham)
How can we engage in the often tense world of politics while reflecting the person and teachings of Jesus? We will read Eugene Cho's book together and discuss how to stay engaged, have integrity, listen to the hurting, and vote our convictions.
'Unsettling Truths': Sundays, July 12 to August 2 from 2 to 3pm (Molly Field & Kassie Dantzler)
This book delves into how our dominant American culture idealizes discovery, opportunity, expansion, and equality, while minority communities have been traumatized by colonization, slavery, segregation, and dehumanization. By questioning deeply entrenched beliefs and bringing injustice in our country to light, we can together learn how to speak truthfully about the past and move forward into reconciliation and deeper community.
Cooking Classes (family friendly, children need supervision*)
Baking Snacks & Treats: June 16 at 6:45pm (Joel Schneider) *use of oven
Come bake some tasty nibbles together, and maybe learn a new recipe or two along the way! We'll use two super simple recipes to make Brazilian cheese muffins and chocolate crinkle cookies together virtually.
Bitter Vegetables - an Appreciation: Saturday, June 27 at 4pm (Darcy Ogle)
Many people prefer a sweet or salty flavor over a bitter one these days, but did you know that bitter foods are foundational parts of traditional diets due to their action on digestion? It's true! Bitter plants were traditionally incorporated into the beginning of almost all meals as a way to facilitate healthy digestion. Join me to learn more and to make a delicious radicchio salad!
Boba Peeps: Saturday, July 11 from 11am to noon (Amy He) *use of hot stove
I love boba. Boba Guys is my favorite. I missed boba so much during SIP that I decided to learn how to make boba from scratch. Wanna learn how to make boba? :)
Game Night
Game Night 2k20: Quarantine Edition: Friday, June 26 from 8 to 9:30 pm (Molly Field)
We'll play some short, online games like skribbl.io via zoom! Feel free to drop in whenever! Will work best to join via computer, but phone works too.
Virtual Jackbox Game Night: Saturday, July 11 from 7 to 9pm (James & Nina Chu)
Join us for a night of Jackbox games (quiz-based party games)!
SIP Zoom Game Night: Friday, July 17 from 8 to 9:30pm (Ron & Amanda Giles)
Fun "virtual" games tested over 3 hard months of Shelter-in-Place!
Self Care & Spiritual Growth
Dream Journaling - a tool for divine revelation and self-exploration: Wednesdays, June 24 and July 1 at 8pm (Jonathan Berent)
This interactive workshop will teach you the practice of dream journaling as a means to hear from God and learn more about yourself. Participants will be taught how to remember their dreams in as much detail as possible and some basic concepts for dream interpretation. The class will be taught in a manner that is friendly to seekers without pre-conceived beliefs in God.
Home as Sanctuary: Saturday, June 27 at 11am (Karen Ratzlaff)
During this time of sheltering in place how can we make our homes truly feel like a sanctuary? What things can we change in our homes to nourish our spirits? I'll be exploring/discussing these ideas.
How is Your Soul?: Sundays, July 5, 12, 19, 26 from 7:30 to 8:30pm (Ron & Amanda Giles, Bruce & Stacey Charonnat)
A four-week personal and group study for spiritual renewal utilizing Ignatian spiritual concepts along with Vineyard practices, designed to help call your attention to intimacy with Jesus through the wear and tear of life.
Inductive Bible Study 1 Corinthians 12 & 13: Saturdays, June 13, 20, 27, & July 11 at 6:30 pm (Alex Van Riesen)
Let's try doing an inductive manuscript Bible study on Zoom! Anyone is welcome to join but you must come to all 4 sessions.
Parents of 'Adulting Kids' Support Group: Bi-monthly, daytime or evening for 90 min (Nancy Pannikkat)
This is for parents of 18-22yr olds either going off to college or living at home. A place to find emotional support for adjusting to empty nesting, and navigating parenting adulting children who aren't quite adults on their own. Join a community of parents who can laugh, share, give/receive practical advice, and have prayer support for things related.